Angelo's Gnocchi With Blue Vein Cream Sauce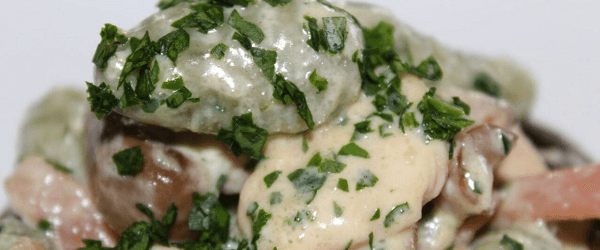 Ingredients
500g Angelo's Potato Gnocchi
600ml Paul's pure cream (don't substitute for any other cream)
½ red onion, finely diced
150g Castello Creamy Blue Vein Cheese – crumbled into small pieces* (or any other blue vein cheese you like, remember the stronger the blue vein the stronger the taste)
Olive oil
A large bunch of chopped chives & parsley
Salt & Pepper to taste.
Freshly grated Parmesan cheese.
Method
Cooking Pasta
Bring to the boil a large pot of salted water.  While the water is heating, start making the sauce.  Once the water comes to the boil, add Angelo's Gnocchi and stir once.  Allow the gnocchi to come to the top and once water has re-boiled remove with a hand strainer and add to blue vein cream sauce.
Blue Vein cream sauce
Heat olive oil in a deep pan and add red onion, allow to fry.  Once onion becomes opaque in colour add Paul's pure cream and stir.  Allow the cream to boil, reduce the heat and continue to stir for 5-10 minutes, or until the sauce has thickened**.
Add the Castello Creamy Blue Vein Cheese***, stir through until the blue vein cheese has melted through.  After 1 minute, add the chopped chives & parsley, plus salt & pepper to taste.  Once gnocchi is ready, add to the sauce and mix.  Add grated Parmesan cheese and mix.  Place in serving bowls and enjoy!
TIPS:
* Or any other Blue Vein you like, remember the stronger the blue vein the stronger the taste in the cream sauce and the richer the sauce will turn out.
** You will need to watch the cream and continue to stir, or it will boil over.
*** Once the blue vein has been added ensure you continue to stir otherwise the sauce will stick and burn on the bottom of the pan.
Things to add that will make this sauce all the more delicious.
Wood Smoked Huon Salmon – remove skin and break up into pieces (The Huon brand is the best: don't get anything else.)  Add the salmon straight after the blue vein cheese.