Pumpkin Filled Ravioli with Roast Pumpkin, Almond and Basil Sauce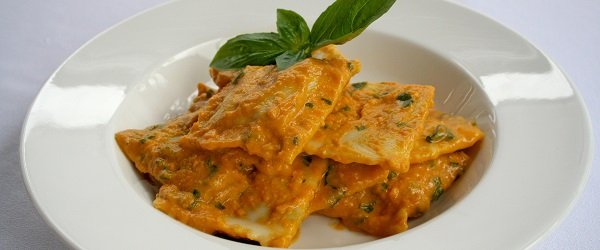 Ingredients
650g Angelo's Pumpkin filled Ravioli
3 cups Roasted jap pumpkin, peeled and chopped
½ bunch fresh sage
½ cup almond meal
2 cloves chopped garlic
¼ cup chopped basil
¼ cup olive oil or vegetable oil
Salt and freshly ground pepper
1 cup pasta water
Method
Preheat oven to 180°C. Roast pumpkin in oven with a little olive oil, fresh sage and garlic.  Once pumpkin is soft and nicely roasted, remove from oven and cool for 15 minutes.  Place all ingredients (cooked pumpkin, almond meal, basil, salt & pepper) into food processor and blend until smooth.
Add olive oil a little at a time while continuing to blend until a smooth paste forms.  Adjust salt and pepper to taste.  If sauce is too thick, add a little pasta water (from the cooking pasta) to thin.
Cook Angelo's Pumpkin filled ravioli for 15 to 20 minutes in salted boiling water until al dente. Drain and reserve ½ cup of pasta water.  Place cooked ravioli back into the pasta pot, pour in the pumpkin sauce, and stir gently with a wooden spoon until the ravioli is completely coated.  Add more pasta water if sauce is still too thick.
Serve with shaved parmesan and torn fresh basil.
Chef's Tip:  The pumpkin sauce is also great as a dip and can be frozen in smaller containers.
Share your dish with us on Instagram: #angelospasta