Gnocchi Dolci (Sweet Dessert Gnocchi Recipe)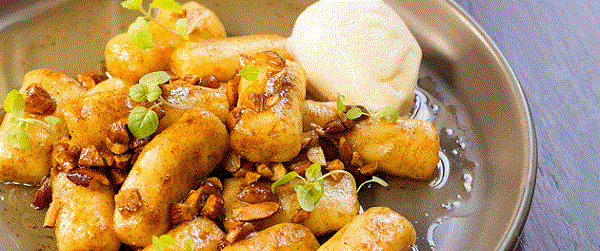 Ingredients
1 x 500g packet Angelo's plain potato gnocchi
70g butter
½ tsp cinnamon
2 tbsp sugar
40g almonds, lightly toasted and roughly chopped
4 large scoops vanilla gelato
Method
Bring a large saucepan of water to the boil. This is for cooking the gnocchi in.
Meanwhile, place a fry pan on a medium heat, then add the butter, cinnamon, sugar and almonds.
Cook gnocchi as per instructions on packet. *See chefs tip.
Once the butter starts to foam, place the cooked gnocchi in the pan, folding it through the sauce. To finish, spoon the gnocchi into bowls and put a generous scoop of vanilla gelato on top.
*Chefs tip: Do not thaw gnocchi before cooking. Gnocchi, should be put into boiling salted water and as soon as they rise to the surface remove from the pot using a slotted spoon, or hand strainer, and place straight into a frying pan with heated sauce. You can watch our PastaTV video of Donna cooking the perfect gnocchi here.
We found this recipe on Italianicious. Why not serve up this easy and impressive sweet gnocci dessert recipe at your next dinner party?!
We'd love for you to share your culanary creations and recipes using Angelo's products with us on social media using #angelospasta ..baci a tutti..xx