Tri-Coloured Beef-Filled Tortellini with Mixed Mushroom, Thyme and Cream Sauce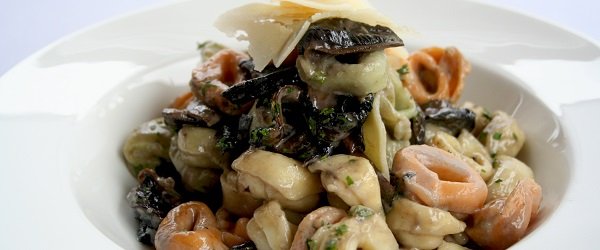 Ingredients
500g Angelo's Tri-Coloured meat-filled tortellini
2 tsp olive oil
200g Swiss brown mushrooms, thinly sliced
200g white Agaricus mushrooms (common white mushroom), thinly sliced
3 garlic cloves, peeled, thinly sliced
8 sprigs fresh thyme, leaves picked
500ml (2 cups) pure cream or reduced-fat Carnation milk
Salt & freshly ground black pepper
Method
Heat the oil in a large frying pan over medium heat.  Add sliced mushrooms, garlic and thyme, and cook, stirring occasionally, for 10 minutes or until the mushrooms are tender and most of their liquid has evaporated.  Add cream to the mushroom mixture and stir over medium heat. Simmer for 8 minutes or until mixture thickens slightly. Adjust the seasoning to taste.
Meanwhile, cook Angelo's Tri Coloured meat-filled tortellini for 10 to 15 minutes in salted boiling water until al dente. Drain and place the tortellini into the large frying pan with the sauce.  Stir pasta through the mushroom sauce and adjust seasoning, if necessary.
Spoon into serving bowls and garnish with shaved parmesan cheese.
Share your dish with us on Instagram: #angelospasta