Avocado, Salmon and Potato Gnocchi Salad by Shelley Judge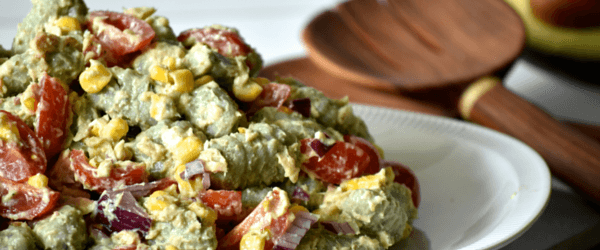 Ingredients
1 avocado
½ cup cottage cheese
2 tbsp. parsley, shredded
1 clove garlic
2tsp chilli flakes
1 packet Angelo's Spinach Gnocchi
100g cherry tomatoes, quartered
1 cob of corn, kernels removed
100g tinned salmon, cartilage removed
½ red onion, finely chopped
Method
Cook the Gnocchi as per the packet instructions. Drain the pasta, rinse thoroughly and allow to cool.
In food processor, or high speed blender, blend the avocado, cottage cheese, garlic, parsley and chilli flakes until smooth.
In a large bowl, coat the Gnocchi in the avocado sauce. Finally, add in tomatoes, corn kernels, flaked salmon and red onion.
Nutrition Tip: Avocado and salmon are great sources of healthy omega 3 fatty acids. Omega 3 reduces inflammation, which is great for joint pain, hypertension and even depression.
She is food smart, she is food hip, she is Shelley Judge! Get food wise by clicking here and finding out more about Shelley.