Bacon and Mushroom Pasta Salad by Shelley Judge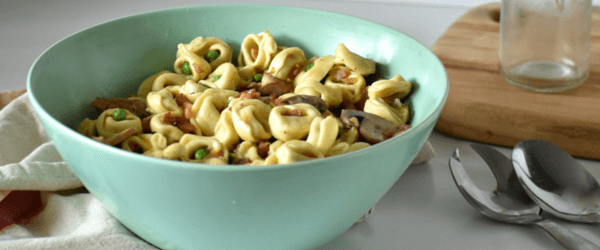 Ingredients
1 small onion, finely diced
2 cloves garlic, crushed
6 rashers bacon – fat removed and diced
300g mushrooms, sliced
1 cup peas
1tbsp butter
1 bag Angelo's Beef Tortellini
Fresh parsley to serve
Method
Melt the butter in a large frying pan, and then add the onion and garlic. Cook for 2mins on medium heat or until onion becomes transparent. Add the bacon and cook for a further 3 mins. Finally, add the sliced mushrooms and cook for another 10mins on a low heat, or until mushrooms have browned and softened.
If using frozen peas, remove from the freezer to thaw and place in boiling water with tortellini one minute before draining tortellini.
Meanwhile cook pasta as per packet instructions. Once cooked, drain and rinse thoroughly and then allow to cool.
Once pasta has cooled, combine pasta with peas and bacon mixture  in a large bowl. Sprinkle with fresh parsley to serve.
She is food smart, she is food hip, she is Shelley Judge! Get food wise by clicking here and finding out more about Shelley.