Eggplant and Pumpkin Pasta Salad by Shelley Judge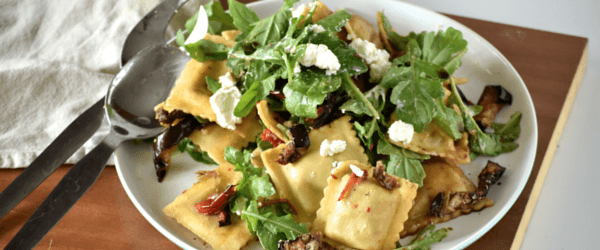 Ingredients
1 large eggplant
1 red capsicum
1tsp paprika
1 packet Angelo's Pumpkin & Spinach Ravioli
100g fresh baby Rocket
50g ricotta
3tbsp olive oil
1tbsp balsamic vinegar
Method
Preheat oven to 180C. Slice the egg plant and capsicum into 1cm wide pieces. Place on a lined baking tray and drizzle with 1 tbsp. olive oil and paprika. Bake in oven for 20 mins.
Meanwhile cook the pasta as per packet instructions. Once cooked, drain and allow to cool completely.
In a large bowl combine the pasta, eggplant, capsicum, rocket and crumbled ricotta. Then drizzle the olive oil and balsamic vinegar over the top.
She is food smart, she is food hip, she is Shelley Judge! Get food wise by clicking here and finding out more about Shelley.