Roast Pumpkin and Rocket Pasta Salad by Shelley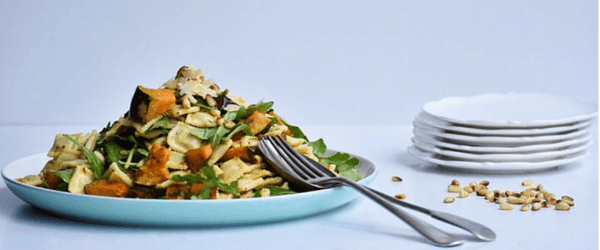 Ingredients
500g pumpkin
1 pinch salt
1 tbsp. dried basil
1 packet Angelo's Raviolini
2 cups baby rocket
¼ cup pine nuts
2 tbsp. olive oil
1 tbsp. lemon juice
Method
Cut the pumpkin into small cubes, no need to peel the pumpkin for this recipe! Lay the pumpkin out on a baking tray and sprinkle with salt, dried basil and 1 tbsp. olive oil. Bake in the oven for 20mins at 200C. Remove from oven and allow to cool.
Meanwhile prepare the pasta as per packets instructions. Be sure to rinse cooked pasta thoroughly in cold water, then allow to cool.
Toast the pine nuts lightly in a small frying pan, until golden brown.
Assembly: In a large bowl combine pasta, pumpkin, rocket and pine nuts. Drizzle with olive oil and lemon juice.
NUTRITION TIP: Pumpkin is high in Vitamin A, a natural antioxidant, providing amazing benefits for skin and eye health.
She is food smart, she is food hip, she is Shelley Judge! Get food wise by clicking here and finding out more about Shelley.