BLOG / 15 February, 2016
Feature Foodie – Ellin Toepan from Hey Brisbane
---
For Ellin Toepan, food has always been a bit of a family obsession. She credits her Mother as one of her biggest inspirations when it comes to cooking and hopes that one day she'll be able to cook "just like her".
Why and how did you get into cooking?
Food has always been an obsession in my family. I think it's because my mum is such a wonderful cook and now that I'm away from home, I have to challenge myself to be able to cook like her!
Can you remember the first dish you cooked professionally? Tell us about it.
I never cooked professionally – I cook mainly for my husband, family and friends. They're all fantastic judges!
Who has inspired you the most in your career?
My parents of course. They taught me to be grateful, strive for happiness and always do what I love most, which I'm doing now – I work with beautiful children at a child care centre, write a blog called Hey Brisbane about the best places to eat, drink and shop in Brisbane, and also run a car decal sticker business called PetStiks with my husband.
Try cooking Ellin's flavoursome Italian Meatballs with Angelo's Linguini Pasta: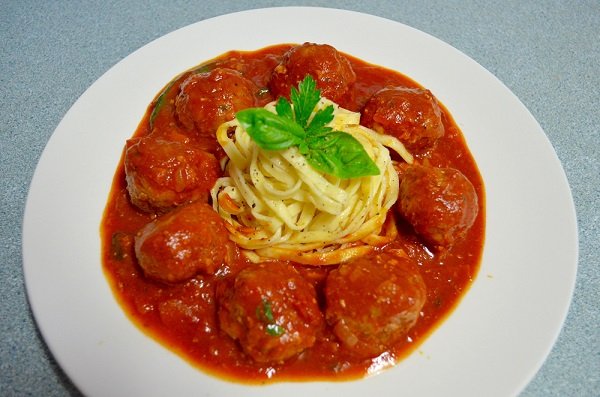 What is your signature dish?
Slow-cooked Lamb Shanks with Angelo's Roast Pumpkin Pappardelle.
Why do you love cooking with Angelo's?
I've never been fussy with pasta, so I usually just got the normal brands that are in the supermarkets… but then I discovered this small deli near my home that sells Angelo's Pasta. I was intrigued, so I bought the plain Angelo's Pappardelle Pasta and made slow cooked beef ragu to have it with. Since then, I've never looked back! I thought the texture and flavour was absolutely perfect!
If you could give someone only one tip about cooking, what would it be?
Always taste as you cook.
Favourite ingredient currently/something you have discovered that you cannot stop using?
Pancetta! It's simply amazing
Website: http://www.heybrisbane.com ( Coming soon )
Instagram: Hey Brisbane (@heybrisbane)
Facebook: www.facebook.com/heybrisbane
Twitter: @brisbanehey
---
Back to blog