Crispy Ricotta Tortelloni with Blue Cheese Cream, Roasted Cherry Tomatoes and Prosciutto Threads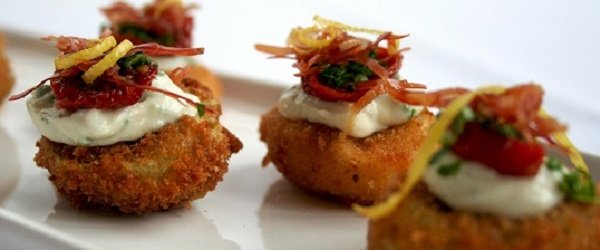 Ingredients
Crispy Ricotta Tortelloni
500g Angelo's Ricotta Tortelloni
2 eggs
2 cups bread crumbs
½ cup grated parmesan
1 cup plain flour
½ cup chopped parsley
1L vegetable oil for deep frying
Salt
Blue cheese cream
50g gorgonzola or blue cheese
100g ricotta
½ lemon, juiced
Salt and pepper
Garnish
8 slices of prosciutto
¼ cup parsley, finely chopped
30 – 40 roasted cherry tomatoes in oil (purchased from most good delicatessens)
Threads of lemon zest
Method
Cook Angelo's Ricotta Tortelloni for 15 to 20 minutes in salted boiling water until al dente, drain and allow the pasta to cool slightly.
Mix bread crumbs, grated parmesan, chopped parsley and salt.  Crumb Angelo's Ricotta Tortelloni by rolling in flour then in lightly beaten egg and then the bread crumbs. Set aside.
Blend the blue cheese, ricotta, lemon juice and salt and pepper. Set aside.
Thinly slice the prosciutto into threads, place onto a sheet of baking paper and bake in a moderate oven of 170°C for 10 minutes until crispy. Set the prosciutto aside to cool.
Heat oil and, in small batches, deep fry the tortelloni until golden. Drain on absorbent paper. To assemble the dish, place crumbed tortelloni on serving dish, top each tortelloni with a small teaspoon of the blue cheese mix. Place a cherry tomato on top of the cheese, then a little chopped parsley, the prosciutto threads, and lastly, a thread of lemon zest.
Serve warm as canapés with drinks or an appetizer before a meal.
Share your dish with us on Instagram: #angelospasta