Eliche (Curly) Pasta with Napolitana Tomato Sauce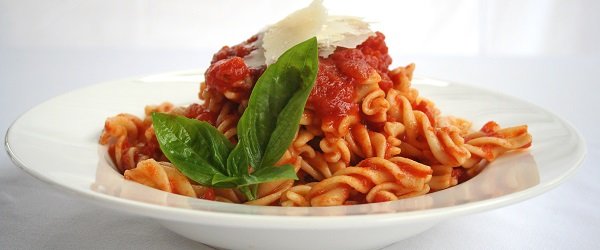 Ingredients
500g Angelo's Eliche (Curly) Pasta
2 tblsp olive oil
1 medium onion, diced
4 cloves garlic, crushed
4 x 400g tin whole peeled tomatoes squashed with your hands – (You can also use crushed or diced tomatoes – or bottled tomato passata)
1 cup chopped, fresh basil.
2 tsp fresh thyme
¼ cup red wine.
1 tblsp sugar
Salt and freshly ground black pepper
2 tblsp butter
Shaved parmesan
Method
Place oil in a heavy-based pan, add in the garlic, diced onion, basil and thyme, and fry until onion is slightly softened and starts to change colour.  Add in the red wine and cook for a couple of minutes, then add the tomatoes.  Stir and bring to the boil.  Once sauce is boiling, reduce heat to low and simmer for 30 to 45 minutes or until sauce has reduced by ¼ and is rich in colour.  Season with salt & pepper. Stir and taste.
If sauce tastes a little bitter, add sugar, stir and taste again. Simmer for another 5 minutes, then remove from heat.
Cook Angelo's Eliche  Pasta for 12 to 15 minutes in salted boiling water until al dente and drain.  Return the pasta pot to the stove and place on low heat.  Using a ladle, spoon ¾ of the Napolitana sauce into the pot, add butter and stir.
Once the butter has melted and the sauce comes to a simmer, pour pasta back into the pasta pot.  Gently stir the sauce through the pasta to coat, using a wooden spoon.  Serve in individual bowls and spoon a little more sauce on top.
Serve with shaved parmesan.
Share your dish with us on Instagram: #angelospasta