Duck Egg Contadina Pasta w Fresh Tomatoes, Zucchini, Bacon and Artichokes By Miss Foodie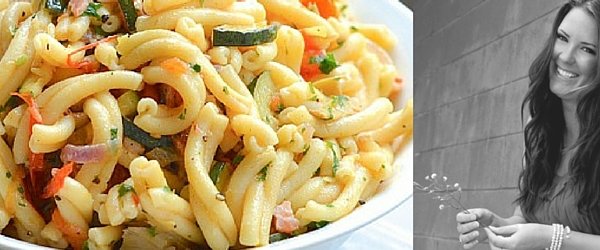 Ingredients
500g Angelo's Pasta Contadina
6 tablespoons extra virgin olive oil (EVOO) plus extra to serve
200g free range bacon rashes, cut into thin strips
1 red onion, halved and sliced
500g cherry tomatoes, halved (mix of red and yellow if you can)
2-3 zucchinis, halved lengthways and sliced approximately 3mm thick
3 garlic cloves, thinly sliced
Pinch dried chilli flakes, optional
3 marinated artichokes in EVO, sliced
Handful flat-leaf parsley, chopped
Cracked pepper
Method
Cook pasta according to packet directions. Drain and return to pan immediately. Drizzle half the EVOO over pasta and cover, set aside.
Cook bacon and onion with a little EVOO in large frying pan over medium-high heat for 5 minutes or until onion softens. Add tomatoes, zucchini, garlic, chili flakes and remaining EVOO, cook for a further 3-5 minutes or until the tomatoes and zucchini have broken down. Add artichokes (and some oil from the jar) stirring for a further minute. Add parsley and cracked pepper.
Add the mixture to the pasta and toss to combine. Divide among serving dishes and top with shaved parmesan.
Notes: use good quality extra virgin olive oil.
Miss Foodie featured Angelo's on her lovely blog. Click here to check it out.