Porcini Mushroom Tagliatelle with Smoked Salmon & Mushroom Cream Sauce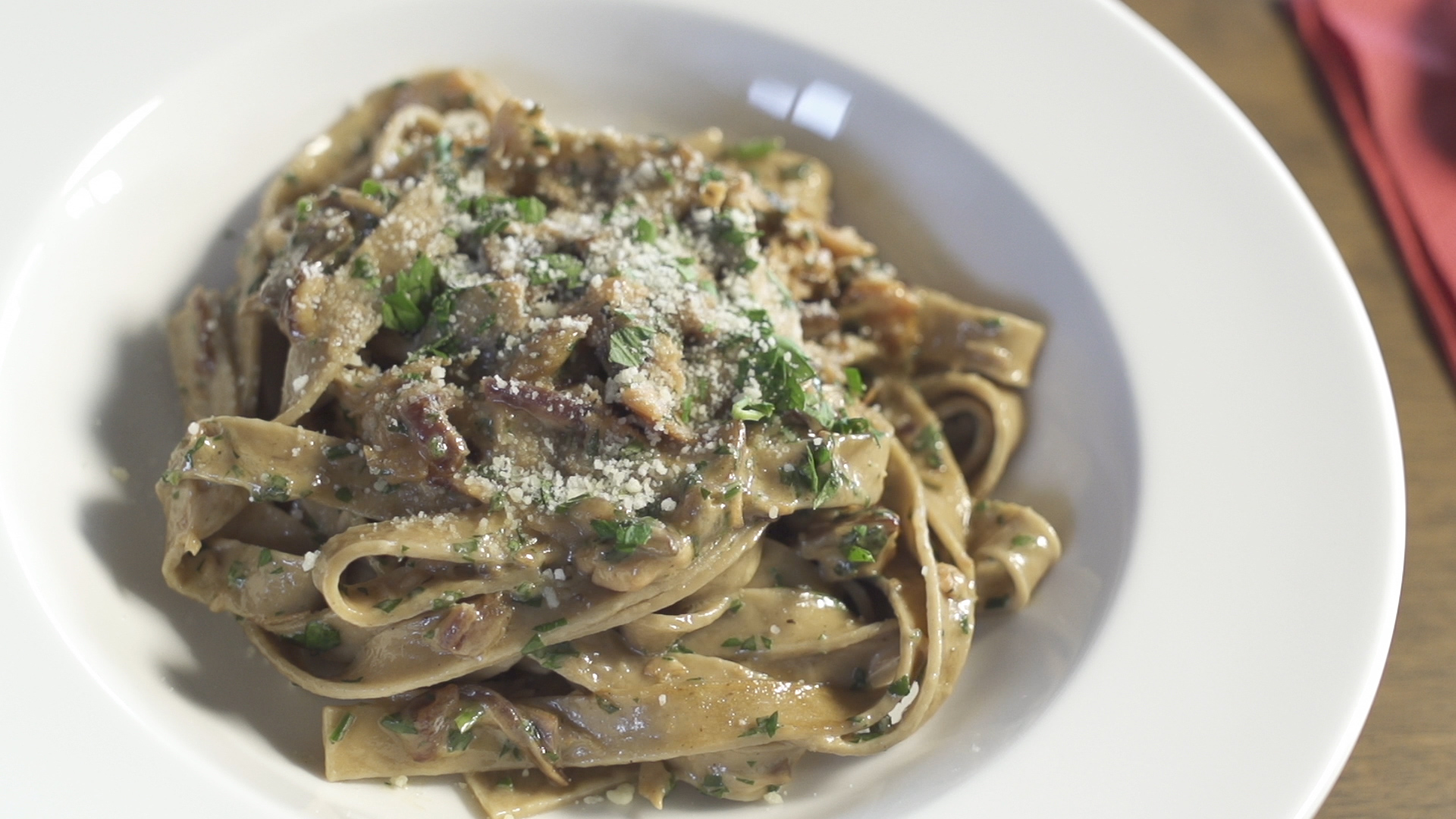 Ingredients
375g Angelo's Porcini Tagliatelle
600ml Paul's pure cream (don't substitute for any other cream)
Small punnet of sliced Swiss brown mushrooms
Wood Smoked Huon Salmon – remove skin and break up into pieces (you'll find it in the dip section of the Supermarket. The Huon brand is the best: don't get anything else.)
½ red onion, sliced
Olive oil
A good bunch of chopped chives & parsley
Salt & Pepper to taste.
Freshly grated Parmesan cheese.
Method
Cooking Pasta
Bring to the boil a large pot of salted water.  While the water is heating, start making the sauce.  Once the water comes to the boil, add the Porcini Tagliatelle and cook for 4-5 minutes, or until pasta is cooked to taste. Drain and add to your salmon & mushroom cream sauce.
Salmon & Mushroom cream sauce
Heat olive oil in a deep pan and add red onion. Once it starts to fry, add sliced mushrooms.  Cook mushrooms until they are soft and a nice caramel colour.
Add Paul's pure cream to the mushroom and onion mixture and stir.  Allow the cream to boil, reduce the heat and continue to stir for 5-10 minutes, or until the sauce has thickened.
Add the salmon, stir through. After 1 minute, add the chopped chives & parsley, plus salt & pepper to taste.  Once pasta is ready, add to the sauce. Add grated parmesan cheese and mix.  Place in serving bowls and enjoy!
TIP: You will need to watch the cream and continue to stir, or it will boil over.
Share you dish with us on Instagram: #angelospasta