Raviolini in Brodo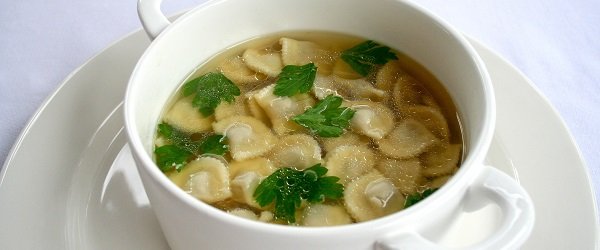 Ingredients
500g Angelo's meat- filled Raviolini
2L good quality chicken stock, preferably home-made with an organic chicken
Grated parmesan
½ cup picked parsley
Chicken Stock (Brodo) Recipe
1.5kg Organic Chicken
1 large onion
3 carrots
3 celery sticks, leave removed
1 bay leaf
Salt taste
Method
Brodo:
To make the Brodo, place all ingredients in a large stock pot and fill with water to cover.  Bring to the boil, reduce heat to medium- low and simmer, half covered, for 3 to 4 hours.  Remove the chicken and vegetables and strain the stock through a fine sieve. Allow to cool until you are ready to make Raviolini in Brodo.  If you have made surplus stock, remove the fat from the surface and freeze immediately.
The Dish:
Bring 2 litres of chicken stock to a simmer, pour in Angelo's meat- filled raviolini and cook in the stock for 15 – 20 minutes.  Adjust seasoning if necessary.  Ladle the Raviolini and broth into bowls, top with freshly grated parmesan and sprinkle with picked parsley.
NB: The cooked chicken and vegetables can be used in minestrone, salads or sandwiches.
Share your dish with us on Instagram: #angelospasta