Tagliatelle Pasta With Slow Cooked Duck Ragù by Italianicious Magazine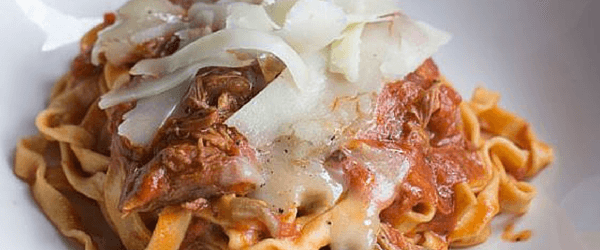 Ingredients
1 duck (1.8kg)
1 onion, diced
2 celery stalks, diced
1 carrot, diced
50g porcini mushrooms, sliced
20g rosemary, chopped
500ml red wine
500g tomatoes, cubed
100g peppered Pecorino Romano cheese
500ml vegetable stock (if required)
Extra virgin olive oil
Salt and pepper
For the pasta dough
200g 00 flour
200g semolina
4 egg yolks
1 whole egg
or
375g Angelo's Plain Tagliatelle
Method
Combine the flour, semolina and eggs to form a dough. Allow to rest for 24 hours, then pass the dough through a pasta machine several times, gradually reducing the thickness, until the desired thickness is achieved. Next, use the cutting attachment to cut the dough into tagliatelle. Dust the pasta with some flour so it doesn't stick and set aside.
Cut the duck so you are left with the breasts and thighs, and carefully remove any bones. Season with some salt and pepper. Heat a small amount of oil in a fry pan and scald the meat on either side to remove any excess fat.
Shallow fry onion, celery and carrot. Add duck, rosemary, mushrooms and red wine. When wine evaporates, add tomatoes. Cook on low heat for 1 hour and 45 minutes. Check regularly to ensure it doesn't stick. If it sticks, add a little vegetable stock. Once sauce is cooked, add salt. Remove duck meat and chop, removing bones, then return to the pan.
Cook the pasta in salted boiling water for 3-4 minutes. Strain using a colander. Add some duck ragù to a fry pan, then add the cooked pasta and toss over a medium heat until the pasta is coated. Serve topped with some freshly shaved pecorino.
TIP: An alternative to the peppered Pecorino Romano Cheese is the Pecorino semi hard chilli cheese available at Angelo's Fresh Pasta Products Factory Shop. Call us on (07) 3252 2482 for more information.
Share your dish with us on Instagram: #angelospasta