BLOG / 26 October, 2016
Feature Foodie – Natasha Petrova from Kitchen Remedy
---
Why and how did you get into cooking?
I was raised in a family of foodies. My mum is a chef and my granddad was always involved with food, but surprisingly I could not cook at all! I came to Australia when I was 18 and literally did not know how to cook rice or pasta! But as the years progressed I started practicing more and began to receive compliments from people; now I'm well known for creating great healthy meals. Recipes are something I struggle a lot with as I'm a creative soul and love to experiment. I'm always trying new things and love to explore the use of herbs and spices in my cooking.

Who has inspired you most in your career?
Without a doubt my mum – she is the master! She can walk into the kitchen and cook up a storm in an hour; the passion and love she puts into her cooking is infectious.
What is your signature dish?
I am a salad master for sure. I love making nutritious healthy salads with surprising twists.
Why do you love cooking with Angelo's?
I fell in love with Angelo's pasta right from the start! The fact that its cooked in milk and cream is simply divine and the quality is far superior to many others I've tried. It's clear that a great deal of love and care is put into creating Angelo's products and I'll be using them in abundance from now on!
Try making Natasha's Angelo's Porcini Mushroom Tagliatelle with chilli and mushrooms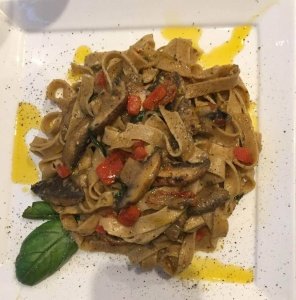 If you could give someone one cooking tip what would it be?
Cook consciously – it's an important process. I have a Buddha statue in my kitchen to remind me of peace and will sometimes light a candle or listen to my favourite music to help feed my creativity.
Favourite ingredient?
Lemon Myrtle leaves and powder – I love to use them when I experiment in my raw vegan cooking or salads. Oh and charcoal salt!
Find out more about Natasha Petrova here:
Website: www.kitchen-remedy.com.au
YouTube: https://www.youtube.com/watch?v=70ioJ3_-GOM&feature=youtu.be
---
Back to blog