BLOG / 9 December, 2015
FEATURED FOODIE – RACHEL PARFITT FROM 'THE NUTRITION PLAYGROUND'
---
Rachel Parfitt is the woman behind popular food blog, The Nutrition Playground. The Brisbane based Dietician's aim is to teach the everyday person how to love healthy food, manage cravings and optimize health. Her website offers helpful and practical tips on how they can make small changes to their daily routines to achieve dramatic improvements in their nutritional status, health and general wellbeing. Rachel offers a free online e-cookbook through her website and provides a range of nutritional services which include one-on-one consultations, recipe design, supermarket tours, educational seminars and menu analysis/designs.
Why and how did you get into cooking?
My love for all things food started from a very young age, when my family relocated from the Gold Coast to Hong Kong in order for my dad to open a chain of restaurants. Being the daughter of an international restaurateur, I quickly developed a love and appreciation for cooking, food and entertaining. I believe that it was through this exposure to the restaurant industry that I developed a healthy relationship with food and learnt how to achieve a balanced diet.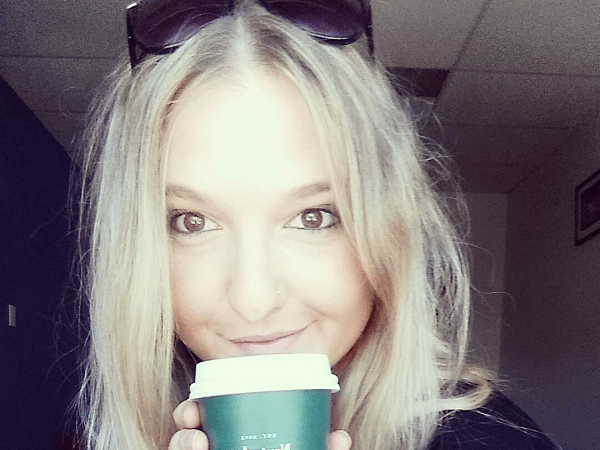 Can you remember the first dish you cooked professionally? Tell us about it.
I can't remember the first dish I cooked professionally. However, I can remember cooking one dish which made me realise just how much I wanted to work within the food industry. Several years ago I decided to make some Chai Iced Pumpkin Cookies from a website recipe. They were absolutely delicious, but I felt they were missing something.  I trialled and errored several different flavour combinations and came up with a winning recipe (that was also slightly more healthy as well – YAY). From then on, I realised just how much I loved experimenting with different recipes and how I would love to do this professionally.
Who has inspired you the most in your career?
That's an easy one: my parents, hands down. It might sound a tad corny, but it's because of them that I am so ambitious, innovative and hardworking. Being massive foodies themselves, my parents have transferred their love of cooking and food onto me and I couldn't be more grateful to have grown up in that type of household. They've been so supportive of my career choices and are always providing me with the positive reinforcement I need to make it within the field of dietetics. So, thanks Mum and Dad.
Try making Rachel's Chicken and Basil Tagliatelle in Creamy Homemade Pesto Sauce.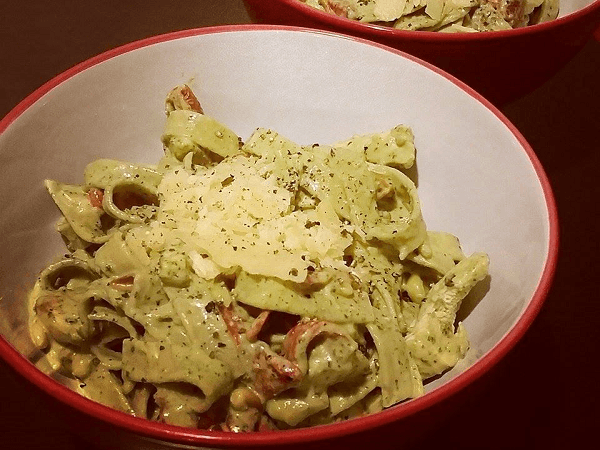 What is your signature dish?
I don't know if I have a signature dish. However, one of my all-time favourite recipes would have to be my Tandoori Chicken and Vegetable Pie. It's essentially a large pan filled with heaps of roast vegetable, tandoori chicken and a little bit of cheese finished with layers of puff pastry. It sounds simple, but I cannot explain how good it truly is. If I ever want to impress someone with my cooking abilities, that's my go-to recipe.
Why do you love cooking with Angelo's?
I love cooking with Angelo's products for several reasons. First and foremost, I absolutely love how fresh the produce is. It really makes Italian food feel more authentic and you can really taste the difference. Secondly, I love the variety of flavours offered by Angelo's – they are innovative, creative and diverse. The hardest part about visiting Angelo's is deciding which products to purchase. Finally, I love supporting local businesses in my area and Angelo's is a perfect example of a local business that strives to please its customers every day.
 If you could give someone only one tip about cooking, what would it be?
Be creative and adventurous. In the past, I was an extremely fussy eater, and had an aversion to many foods, either based on their smell, texture or flavour.  As time has progressed, I've been slowly introducing these foods back into my diet. I've been pleasantly surprised to see that I now love many of them. So my advice is to always try everything. You never know what amazing dish you may discover. Also be creative and change up your flavour combinations to avoid getting bored with the same old meals. If you challenge your taste buds, you will likely be rewarded with some new flavour favourites.
Favourite ingredient currently/something you have discovered that you cannot stop using?
My favourite ingredient at the moment would have to be mushrooms. As a teenager, I never understood what all the hype was about. I think it was their texture that I didn't like. As my palate developed, I acquired a taste for them and am now absolutely obsessed with mushrooms. I add them to hot breakfasts, salads, pasta, pies, quiches, risottos, homemade pizzas. To be honest, the list is endless. Most recently, I've taken to eating stuffed mushrooms for dinner and they are divine
Find out more about Rachel Parfitt from The Nutrition Playground  here:
Facebook: www.facebook.com/thenutritionplayground
Instagram: @thenutritionplayground
Website: www.thenutritionplayground.com
---
Back to blog