Chicken & Basil Tagliatelle With Creamy Homemade Pesto Sauce By Rachel Parfitt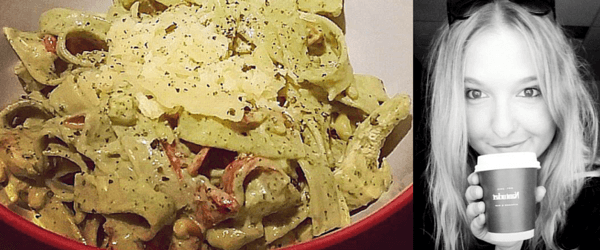 Ingredients
1 x packet of Angelo's Basil Tagliatelle
3 x skinless chicken breasts
1 cup light cream
100g pine nuts, roasted
2 cups of basil leaves
½ cup of sundried tomatoes
½ cup of grilled/roasted capsicum
1 cup of shaved parmesan
¼ cup extra virgin olive oil
1 x garlic clove, peeled
Sea salt
Fresh ground pepper
Method
Start by making your pesto sauce. Add the garlic, salt and pepper to a food processor and blitz for 20 seconds. Next, add 1 ½ cups of washed basil leaves, 50g of pine nuts, ¼ cup of parmesan and the olive oil to the processor. Process for 1 minute until pureed and a paste begins to form. Next add additional basil leaves and/or oil to the mix to reach desired consistency. Set aside.
Preparing the chicken by removing any fat from the chicken breasts. Rub them with 1 tbsp. of the pesto. Bring a non-stick pan to medium heat and begin cooking the marinated chicken breasts.
In the meantime, fill a saucepan with salted water and bring to the boil. Once boiling, add all of the basil tagliatelle and allow to cook for 6-8 minutes or until al dente.
Once the chicken is cooked, remove from the heat and slice into thin strips. Set to the side.
When the pasta is cooked, drain it and put it back in the saucepan. Add the cream, chicken, 6 tbsp. of pesto, sundried tomatoes, grilled capsicums, salt and pepper. Place the saucepan back on the heat and warm for 2-3 minutes.
Sprinkle with parmesan cheese and cracked pepper to serve.
Rachel is one of our Feature Foodies. Read about her food story here.
Share your dish with us on Instagram: #angelospasta