Saffron And Parmesan Arancini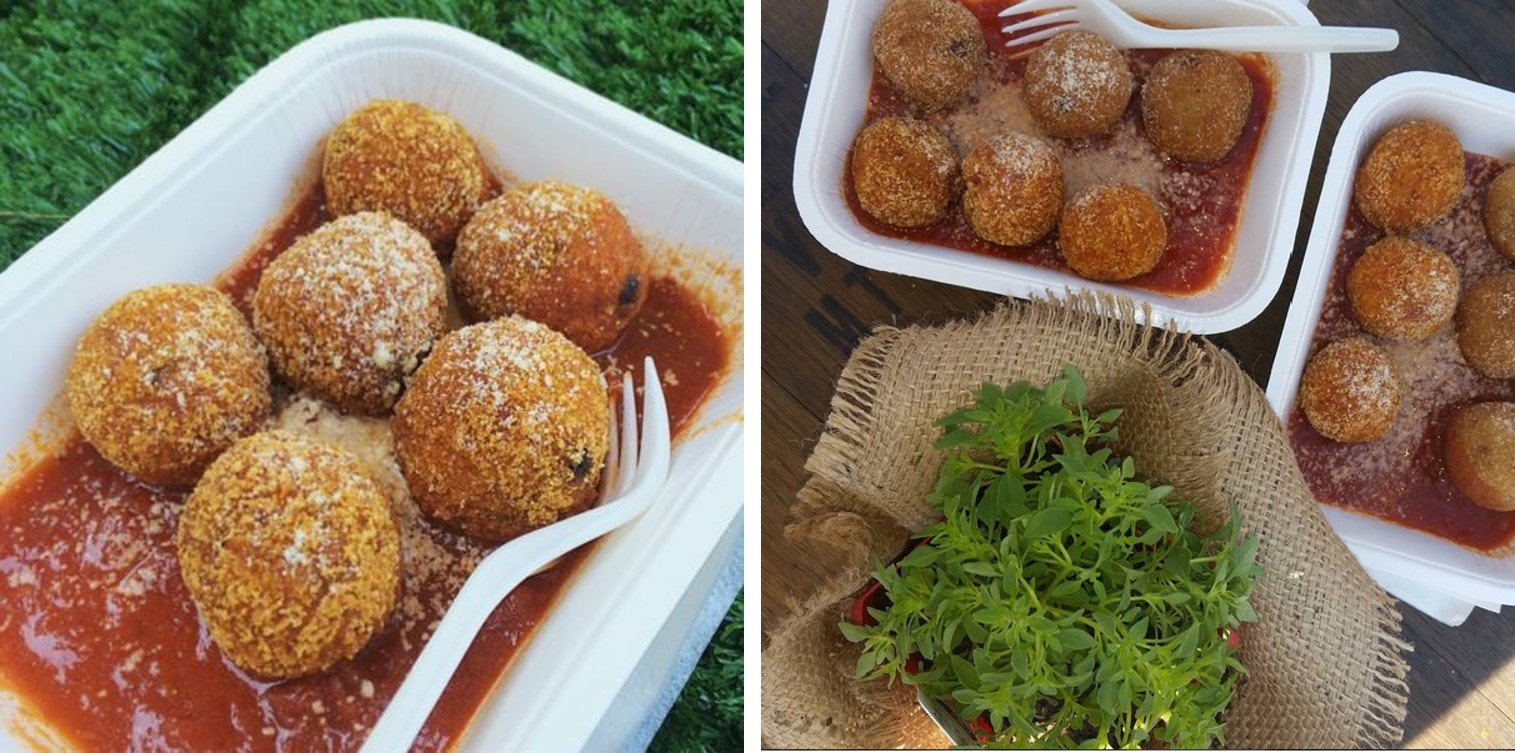 Ingredients
Large pinch of saffron threads
200ml white wine
100g butter
1 small salad (red) onion, finely chopped
1 garlic clove, crushed through a garlic press
750ml chicken stock
2 tablespoons thyme leaves, removed from stems
250g risotto rice (vial one nano, arborio or carnaroli)
50g Parmesan cheese, freshly grated
100g mozzarella cut into cubes
75g breadcrumbs
Oil for deep-frying
Method
Leave the saffron to soak in the wine while you prepare the risotto.  Heat stock in saucepan until hot, then simmer. In another saucepan, melt butter, add onion, garlic and cook over low heat for a couple of minutes until onion is soft.  Add thyme leaves and rice to the saucepan and stir until rice grains are coated with butter.  Add the wine infused with saffron and stir until the wine is absorbed.  Add hot stock a ladle at a time and continue until stock covers the rice, continue to stir.  Bring to the boil then lower heat to simmer, place lid on saucepan and set timer for 6 minutes.
After 6 minutes stir and taste to see if rice is fully cooked.  If rice is cooked and liquid has not been fully absorbed leave lid off and stir until all liquid has been fully absorbed.  If rice is not cooked, check liquid and if required add a little more stock, stir and place lid on saucepan and set timer for another 4 minutes.  Once rice is cooked, remove from heat and stir through grated Parmesan, then spread out onto a tray, lined with cling wrap.  Leave to cool, preferably overnight in the fridge.
To make arancini, roll a small amount of risotto into a walnut-sized ball.  Press a hole in the middle using your thumb, place a small piece of cheese inside and press the risotto around it to enclose in a ball.  Repeat with the rest of the risotto.  Roll each ball in the breadcrumbs, pressing down to coat well.
Heat enough oil in a deep frying pan to fully cover arancini.  Heat the oil until a piece of bread fries golden brown in 15 seconds when dropped in the oil.  Deep-fry the arancini in batches, without crowding them and fry, for 3-4 minutes each.  Drain on paper towels and leave for a couple of minutes before eating.  Serve hot or at room temperature……Buon Appetito.
Angelo's recently attended the James Street Wine and Food Trail and sold out of these delicious looking morsels. This is Angelo's favourite arancini recipe. Enjoy!
To read about the Food and Wine Trail click here.
Images by @BiancaEats and @angelospasta Instagram