Asparagus and Lemon Rigatoni Pasta Salad by Shelley Judge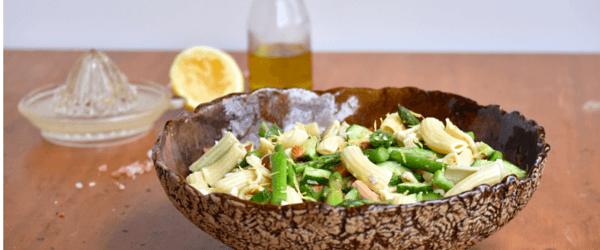 Ingredients
100g asparagus
1 Lebanese cucumber, thinly sliced.
½ cup almond, roughly chopped
Rind of 1 lemon
Juice of 1 lemon
4 tbsp. olive oil
1 tsp. salt
1 packet of Angelo'sRigatoni
Method
Cook pasta as per packet's instructions. In the last 2 mins of cooking add the asparagus to the saucepan. Drain pasta and asparagus and rinse well. Allow to cool completely.
Meanwhile, prepare the dressing. In a small bowl whisk the lemon juice, lemon rind, olive oil and salt.
Cut each asparagus stalk into 3 pieces. Then in a large bowl, combine pasta, asparagus, cucumber and almonds. Finally, drizzle the dressing over the pasta.
Nutrition Tip: Asparagus is high in vitamins A, C, E and K. It is also a great source of chromium, which helps to maintain blood glucose levels.
She is food smart, she is food hip, she is Shelley Judge! Get food wise by clicking here and finding out more about Shelley.