Beetroot and Feta Pasta Salad with Mustard Vinaigrette by Shelley Judge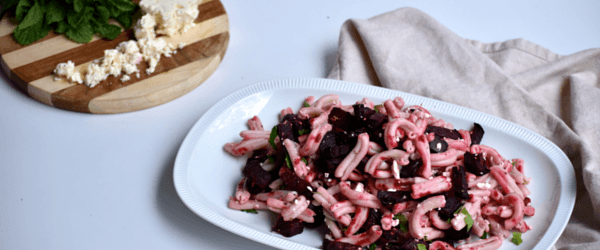 Ingredients
2 medium beetroot's
75g feta
2 tbsp. mint, shredded
1 tbsp. seeded mustard
3 tbsp. olive oil
1tbsp lemon juice
1 packet Angelo's Spelt Alla Contadina
Method
Preheat the oven to 180C. Cut the beetroot into 1 cm cubes, then place on a baking tray. Roast in the oven for 25mins. Remove from oven and allow to cool.
Meanwhile, cook pasta as per instructions on the packet. Once cooked, drain and rinse pasta well. Allow to cool.
In a bowl, combine cooled pasta, beetroot, crumbled feta and mint. In a separate bowl, whisk mustard, olive oil and lemon juice together. Drizzle the mustard vinaigrette over the pasta salad.
Nutrition Tip: Spelt is an ancient grain that is high in fibre and contains significantly more protein and B vitamins than wheat.
She is food smart, she is food hip, she is Shelley Judge! Get food wise by clicking here and finding out more about Shelley.