Creamy Garlic and Chilli Prawn with Basil Tagliatelle by Feature Foodie Wendy from Little Apple Mint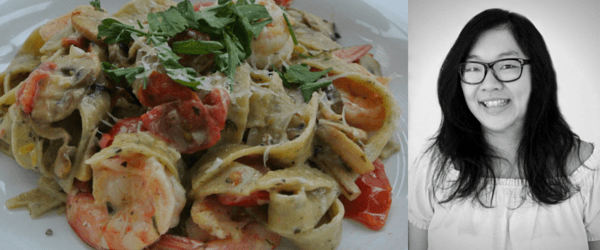 Ingredients
375g Angelo's basil tagliatelle
24 raw king prawns (peeled & cleaned; leave tails)
4 cloves garlic (finely chopped)
4 mushrooms (sliced)
10 cherry tomatoes (quartered)
1 small red chilli (finely chopped)
1/2 cup dry white wine
3 tablespoons cream
3 tablespoons olive oil
1 tablespoon butter
1/4 cup grated Parmesan
Handful parsley, chopped
Zest & juice of 1 lemon
Salt pepper
Method
Place prawns in a medium bowl with garlic, salt and pepper, and 1 tablespoon olive oil. Stir well and leave to marinade.
Cook pasta in a large pot with boiling salted water. Follow instructions on packet or cook until pasta is al dente. Drain and reserve 1/4 cup pasta water.
Heat 1 tablespoon olive oil in large fry pan over medium high heat. Add prawns and cook until they are cooked through and have changed colour. Place in bowl and set aside.
Heat 1 tablespoon olive oil. Add chilli and mushroom and cook for 2-3 minutes until mushrooms are lightly browned and softened. Add cherry tomatoes. Cook for 1 minute. Reduce heat to medium and add white wine and cream. Cook until cream has melted through. Then add cooked basil pasta with 1/4 cup pasta water. Add prawns back in and season well with salt and pepper. Turn off heat. Add lemon zest and juice and stir well. Serve with grated Parmesan and chopped parsley.
Wendy is one of our Feature Foodies. Read about her food story here.
Share your dish with us on Instagram: #angelospasta