Pesto and Roast Pumpkin Pasta by Shelley Judge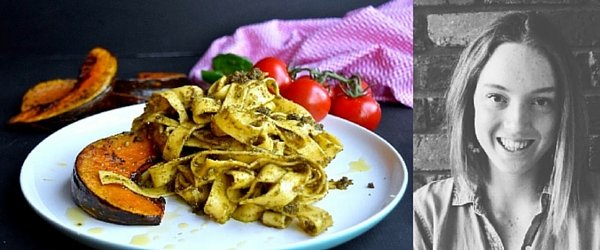 Ingredients
1 Packet of Angelo's Pappardelle
1 bunch of fresh basil
½ cup of almonds
1tbsp lemon juice
½ cup Extra Virgin Olive Oil
½ of a Japanese pumpkin
1 tbsp olive oil
Pinch of rock salt
Method
Preheat oven to 200 C. Cut the pumpkin into 4 even pieces and place onto a lined baking tray. Drizzle with 1 tbsp of olive oil and a pinch of salt. Bake in a hot oven (200 C) for roughly 20 mins or until golden brown and tender.
Meanwhile in a food processor (or high speed blender) blitz the basil leaves and almonds until finely chopped. Pour in the olive oil and lemon juice and blitz until a paste is formed. Set to the side.
Prepare the pasta by boiling a large saucepan of water. Once boiling add in the pasta and cook for 5-6mins and drain – ensuring to retain 1/2 cup of liquid. Put to the side.
In a large pan, combine the pesto and the pasta liquid and heat through. Add the cooked pasta and stir to coat.
To serve, place a piece of pumpkin on each of the four plates and then divide the pasta amongst the plates. Alternatively, slice the roasted pumpkin and toss it through the pasta.
ENJOY!
Click here to view Shelley's Tuna, Tomato and Olive Pasta recipe.