Tomato, Tuna and Olive Pasta by Shelley Judge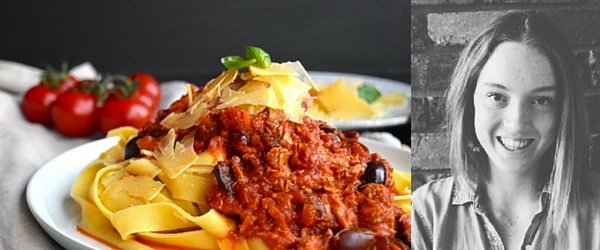 Ingredients
1 packet of fresh Angelo's Roasted Pumpkin Pappardelle
1tbsp extra virgin olive oil
1 brown onion, finely chopped
2 cloves garlic, crushed
1 fresh chilli
1 tbsp tomato paste
2 cans (400mL) organic crushed tomatoes
2 tbsp balsamic vinegar
2 tbsp fresh basil, finely chopped
1 tsp sugar*
300g flaked tuna
100g fresh olives
Method
Firstly heat the oil in a heavy based saucepan and then add in the onion, garlic and chilli. Sautee on a medium heat until onion has softened and is slightly brown.
Stir in the tomato paste to coat the onion mixture. Pour in the crushed tomatoes, balsamic vinegar, fresh basil and sugar*, stirring to combine. Allow the mixture to simmer on low for 20mins.
Once the tomato sauce has thickened, slightly puree the mixture with a stick blender.
Prepare the pasta. Bring a saucepan of water to the boil, then add pasta and cook for 5-6 mins. Once cooked, drain the pasta and place into a large serving bowl.
Stir the olives and tuna through the tomato sauce until heated through. Carefully spoon the sauce onto the pasta and serve with fresh shaved Parmesan cheese and basil.
*Sugar is optional, but I find it really brings out the flavour and neutralises the acidity of the tomatoes.
To view Shelley's Pesto and Pumpkin Pasta recipe click here.