Pesto Chicken Pasta Salad by Shelley Judge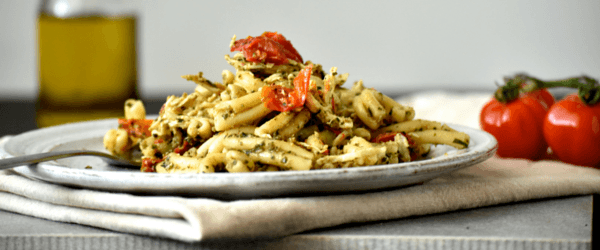 Ingredients
1 bunch of basil
1/3 cup pine nuts
1/3 cup olive oil
1 inch parmesan cheese, grated
1 chicken breast (or left over roast chicken!)
1 tsp. paprika
1 tbsp. lemon Juice
75g sundried tomatoes, shredded
1 packet of Angelo's Duck Egg Alla Contadina
Method
In a food processor, add the basil, pine nuts, olive oil and parmesan. Process on high for 2mins or until a paste forms.
Cook the pasta as per the packet instructions. Once cooked, rinse and allow to cool completely.
Meanwhile, prepare the chicken. If using breast, cut the breast into 3 pieces. Then fill a saucepan with water and bring to the boil, add in paprika, lemon juice and chicken. Cook for 20mins. Once cooked and cooled, use two forks to shred the chicken.
In a large bowl, combine pasta, chicken and sundried tomatoes. Finally, coat it in the pesto mixture.
She is food smart, she is food hip, she is Shelley Judge! Get food wise by clicking here and finding out more about Shelley.