Prawn, Garlic And Chilli Fettuccine by Ben Macdonald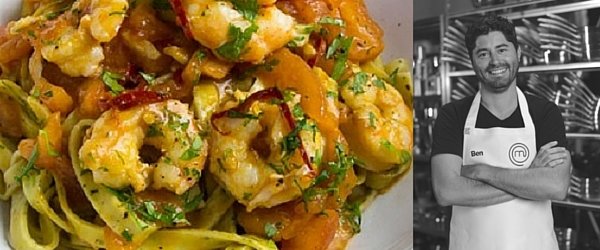 Ingredients
375g Angelo's Boutique Parsley Fettuccine
600g raw/green prawns in their shell
4 cloves garlic, roughly chopped
2 long red chillies, thinly sliced
½ bunch parsley, finely chopped, stalks reserved
2 large tomatoes, peeled, seeded and flesh roughly chopped
150ml white wine
½ carrot, roughly chopped
½ onion, roughly chopped
1 stick celery, roughly chopped
1 bay leaf
4 black pepper corns
4 tablespoons tomato passata
Olive Oil
Salt and pepper
Method
Peel and devein the prawns, reserving the shells.
Put a large pot of salted water on to boil the pasta (~10g salt per litre).
Heat 1 tablespoon olive oil in a small saucepan over a medium heat. Add the carrot, onion and celery and sweat for a couple of minutes until soft but not coloured.
Add half the passata and the prawn shells (including heads) and turn the heat to medium-high. Stir and crush the shells with a wooden spoon until they change colour and have given up their juices.
Add half of wine and cook for 1 minute. Add the bay leaf, peppercorns, parsley stalks and enough water to half cover the shells. Simmer gently for 20 minutes stirring occasionally. Strain, reserving the liquid.
Heat 2 tablespoons olive oil in a large sauté pan over a medium heat. Add the garlic and as soon as it starts to colour add the chilli. Cook for 1 minute, then add the prawns and leave to cook on one side for 2 minutes.
Add the remaining wine and cook for 1 minute. Then add the remaining passata, and 1 cup of the strained prawn stock. Bring to the boil, add the tomatoes and turn off the heat.
Meanwhile cook the pasta for 6-7 minutes so it is still a little underdone. Drain and add to the sauce. Toss for 2 minutes so until the starch from the pasta thickens the sauce. Season to taste.
Serve immediately garnished with the chopped parsley and a drizzle of olive oil.
Angelo's featured Ben in our Featured Chef series. To read about what inspires Ben and his new venture click here.