Mashed Pumpkin and Chickpea Pasta Salad by Shelley Judge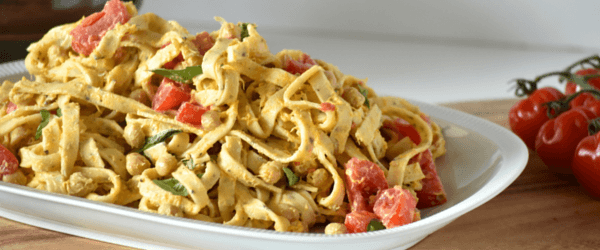 Ingredients
500g pumpkin
1 tbsp olive oil
1 tbsp dried basil
1 can (400g) chickpeas, drained.
400g cherry tomatoes, quartered
2tbsp natural yoghurt
1 tbsp tahini
salt and pepper to taste
1 packet of Angelo's Cracked Pepper Fettuccine
fresh basil to serve
Method
Preheat the oven to 200C. Slice the pumpkin in to 1 inch thick discs. Place on lined baking tray, drizzle with oil and basil. Bake in oven for 20-25 mins or until soft. Remove from oven and allow to cool.
Meanwhile cook pasta as per packets instructions. Once cooked, drain and rinse pasta thoroughly, set aside to cool.
Using a fork, scrape pumpkin away from the skin, then in a small bowl combine pumpkin, yoghurt, tahini, salt and pepper.
In a large bowl, combine the pasta, cherry tomatoes and chickpeas. Then liberally coat the pasta in the pumpkin mixture. Sprinkle with fresh basil to serve.
She is food smart, she is food hip, she is Shelley Judge! Get food wise by clicking here and finding out more about Shelley.