Summer Salmon Pasta Salad by Shelley Judge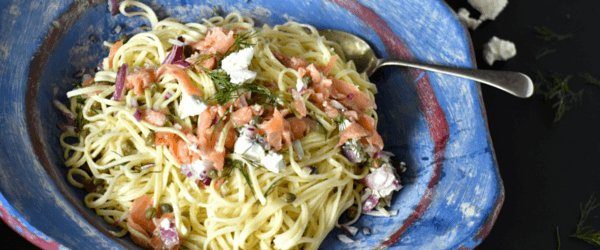 Ingredients
100g smoked salmon, thinly sliced
25g capers
2 sprigs of fresh dill
60g goats cheese
1 small red onion, finely diced
2 tbsp olive oil
1 tbsp white wine vinegar
salt and pepper to taste
1 packet of Angelos Free Range Egg Tagliarini
Method
Cook the pasta as per packets instructions. Once cooked, drain and rinse, then allow to cool completely.
In a small bowl, mix oil, vinegar, salt and pepper, then set aside. Place the pasta in a large bowl then mix through the salmon, capers, dill, goat's cheese and red onion. Finally, drizzle over dressing, and sprinkle with more dill to serve.
She is food smart, she is food hip, she is Shelley Judge! Get food wise by clicking here and finding out more about Shelley.