Chicken, Pumpkin and Spinach Lasagna by Feature Foodie Wendy from Little Apple Mint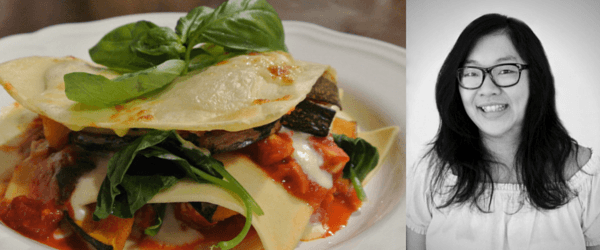 Ingredients
6 sheets Angelo's lasagna
Half Japanese pumpkin (sliced with skin on)
3 tablespoons olive oil
6 cloves garlic (4 left whole, skin on; 2 finely chopped)
1 medium onion (finely chopped)
6 mushrooms (finely chopped)
2 chicken breasts (cut into thin slices)
6 basil leaves (roughly chopped)
700g Passata sauce
1 cup red wine
3 tablespoons butter
3 tablespoons plain flour
3 cups milk
1 teaspoon nutmeg
3 cups cheese
2 cups baby spinach leaves
Salt and pepper
Method
Preheat oven to 200C. Line 2 baking trays with baking paper. Divide the sliced pumpkin between the trays. Drizzle with olive oil and add whole garlic cloves. Bake in the oven for 25-30 mins until golden brown, turning them halfway.
Heat 1 tablespoon olive oil in a large pan over medium high heat. Add 2 finely chopped garlic cloves and onions, and cook until transparent. Add mushrooms and chicken. Cook until lightly browned and chicken is cooked through. Reduce heat and add passata, red wine and basil. Bring to a simmer and cook for 10 mins until sauce has reduced and thickened.
To make the white sauce, melt butter in a small saucepan then add the plain flour to form the roux. Cook until the mixture forms a paste and leaves the sides cleanly. Take off the heat and slowly add the milk, whisking well after each addition. Once all the milk is incorporated, return to a low heat. Whisk constantly until the mixture thickens. Once thickened, turn off the heat and add nutmeg and cheese. Season with salt and pepper and mix well.
Bring a large pot of salted water to the boil. Add sheets of lasagna to the pot. Cook until the pasta sheets are al dente. Cut each sheet in half.
Preheat the oven grill to 220C. Place 1 lasagna sheet on each of 4 plates. Divide half of the tomato sauce between the 4 plates. Using half of the roasted pumpkin and spinach, place on top of the tomato sauce. Drizzle a third of the white sauce on top of each serving. Top with another sheet of lasagna and repeat the same process with this layer. To finish each lasagna stack, use the remaining white sauce and cheese. Place each plate under the grill until the cheese is melted. Serve with fresh basil.
Wendy is one of our Feature Foodies. Read about her food story here.
Share your dish with us on Instagram: #angelospasta